Profile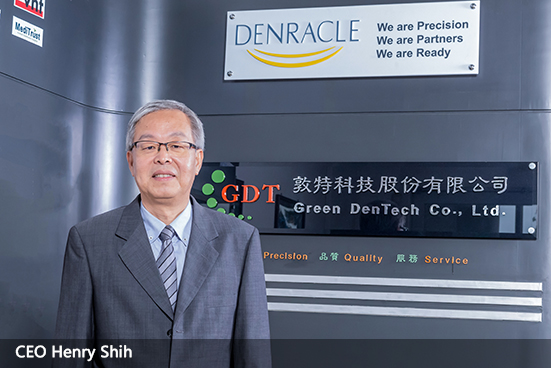 CEO's Message
I'm very proud of what we have achieved at Green DenTech. Our company's history and story is unlike any other, crossing over from high precision racing motorcycle parts to high quality medical devices. We have traversed industries and become a leading manufacturer in Taiwan for two industries. Our work in the dental field is constantly evolving to fit the needs of a complex and growing consumer base. We have seized an opportunity to take on new challenges to build something great.

Our history with high-precision quality parts spans over two decades. Initially, the company produced titanium screws, nuts, and bolts for racing motorcycles and bicycles. We traveled all over the world to display our products and promote the high quality parts that Taiwan is famous for in that industry. One day I was approached by the largest dental laboratory in southern Taiwan to see if I could produce a titanium screw for medical use. While I didn't have the machines necessary at that time to produce that specific piece to the quality I expect from our manufacturing team, I knew that our expertise and background made us a good candidate to try to produce this part in the future. The feeling was that if we could keep a motorcycle racing down a track at 200MPH together, we could take the same passion to produce the highest quality parts that could keep your new teeth safely in your mouth.

So in 2006 a team was assembled to research producing high-grade titanium parts for medical use. The teams name was 2DLM, which stood for two Doctors (a dentist and Ph. D.), a Laboratory, and a Manufacturer. This team looked carefully into the best methods of production and needs of the dental industry. In 2009, Green DenTech was formed after the 2DLM team had felt it was time that the knowledge and research could be put to the best practice. Within the next few years we were able to acquire all the certifications necessary to produce and sell our products around the world. Our Denracle brand products can be found in many countries spanning from east to west and we intend to continue growing. I hope that we will continue our success in the dental field. We expect to establish a strong reputation for high quality parts and innovation in this evolving medical field. We have taken on the challenge of a new industry and will continue forward with passion and determination.
Green DenTech Co. Ltd.

GDT was established in early 2009 with the ability of precision manufacture technique of titanium alloy and stainless steel, PEEK, PMMA, and POM. GDT's history with high-precision quality parts spans over two decades. Initially, the company produced titanium screws, nuts, and bolts for racing motorcycles and bicycles. With this expertise and background, plus cooperating with well-known medical universities, we developed cutting edge dental implant and dental accessories and expect to provide these products with the highest level of design ability, the most precision finishing technology and the most comprehensive quality. GDT has passed the ISO 13485 quality system certification in 2009, G.M.P. in 2010, and CE in 2012. In 2014, we received US FDA 510K for Osstem products, and more systems are expected to be cleared in 2018. GDT is led and developed under the philosophy of globalization. Our purpose is to offer high-end dentistry solution to end-users and develop high-quality products to OEM/ODM customers. In the future, we will continue researching and developing in implants and implant accessories for customers worldwide.
Denracle
Denracle, officially established in 2009, was a brand made by Green Dentech of Taiwan. Denracle is a combination of Dental, Miracle, and Smile which are three essential elements as well as the spirit of the brand. All Denracle products are of the elaborated design and precision milling out of the finest quality material to meet the demand of global customers.
Milestones
set up 2DLM team(2D:Dentist+Ph.D., L:Dental Lab, M:Manufacture)

2DLM attends "Dental Implant Training Program" at Metal Industries Research & Development Center

Green DenTech Co., Ltd(Denracle) was established

ISO 13485

Received TFDA Class II for Implant products

GMP : Class II Dental Abutment

TFDA : Class II The Medical Device Certificate for Dental Abutment

TFDA : Class II Endosseous Dental Implant Accessories(Non-Sterile)

Received ISO 13485

Received CE Class II & CFDA Class I certifiacates

Denracle Library Integrated in Exocad

CE : Class II Non-Sterile Dental Abutment

CFDA : Class I Endosseous Dental Implant Accessories

Resceived U.S FDA Class I ceretificates

Denracle Library Integrated in 3shape

U.S FDA : Class I Endosseous Dental Implant Accessories(Analog)

Received U.S FDA Class II submission letter for Osstem system

Launch of Denralce intra-oral scan bodies

U.S FDA : Class II Endosseous Dental Abutment

Launch of Denracle Digital analog

Preparing U.S. FDA : Class II Endosseous Dental Abutment Accessories

Denracle pre-milled Abutment Integrated with VHF

Clear aligner solution (coming soon)

Received GMP for Clear aligner production line

Recertification of ISO 13485:2016